Do you need to organize meals for an event of more than 10 people?
Do you want to offer original, healthy dishes that help make the world a better place? Ask our services!
We support you in the organization and realization of your events. We can organize for you a breakfast or a coffee break, a lunch in the form of lunch boxes, standing lunch, picnic on the go, a hot or cold buffet, an aperitif or a cocktail reception, a seated meal with plate service. Even your craziest projects for which you need a tailor-made offer are achievable thanks to our creative, available and flexible team! Contact us now to talk about it!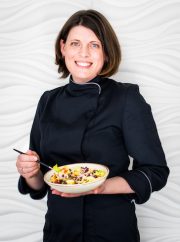 Origin of our meats and fish:
Chicken: Switzerland
Veal:Switzerland
Beef. Switzerland
Duck. France
Chorizo: Switzerland
Eggs: Switzerland
Thuna: Indian ocean
Prawns: Pacific Ocean
Salmon: Atlantic Ocean
We would be happy to give you detailed information on the possible presence of allergens in the dishes of the menu.
In case of allergy or intolerance, please contact our staff who will be happy to help you.